Calcium Removal from swimming Pool Tile, Pebble Tec and Rocks.
We clean, protect and restore your outdoor water feature in just a few hours. You can rest assured that our products are environmentally safe, non-abrasive and we don't use chemicals. We also offer acid washes, new equipment upgrades and weekly maintenance service.
GET RID OF UGLY CALCIUM DEPOSITS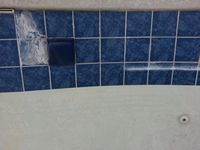 Calcium makes strong bones and teeth, but it can make a mess of swimming pool tiles. Most water in the 11 Western states is high in calcium chloride, which forms unsightly and hard to remove deposits on surfaces like tile.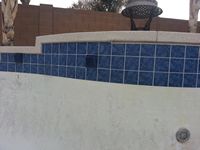 Arizona Pool Service has perfected a system for removing these calcium deposits quickly and inexpensively. Tiny glass beads are shot against
the deposits under pressure, pulverizing the calcium without harming the delicate porcelain or clay tiles. The calcium debris and glass beads settle to the bottom of pool and are removed by a vacuum. An average-sized home swimming pool takes only two to three hours to clean and is just a fraction of the cost of replacing tile.