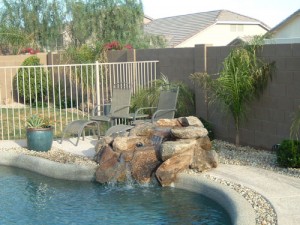 Having a swimming pool in your back yard is always a welcome addition to the amenities your home has. It's a good place for the kids and the rest of the family to hang out, especially in the summer, where everyone needs an escape from the heat. It's also a great place to gather for an afternoon barbecue or dinner party for you and your friends.
However, the real challenge – and you can say trade-off – to having a swimming pool is the maintenance involved.
Pool maintenance doesn't have to be a chore — but it dose have to be done. Regular care keeps the water clean and balanced, and your equipment functioning properly.
We are professionals and dedicated to providing each customer with the highest possible level of service. Every job is completed with pride and care, and your complete satisfaction is guaranteed. It's time to enjoy your pool again!
Services we offer: Pool Cleaning Services, Pool Repair, Pool Maintenance, Pool Tile Cleaning, Acid Washing, Chlorine Bath, Remodeling/Replastering Services, DE/Cartridge Filter Cleaning, Sand Changes, We also offer Installation and Repair of Equipment: Pool Filters, Pumps and Motors All Automatic Pool Cleaners. Timers. Heaters, All Salt Chlorinators, Plumbing Leaks, Pool Lights, Highest Quality Pool Fence and more.
Queen Creek Pool Service
Our Service packages are affordable and effortless for you. We can accommodate whatever service you need. We only want to do those services you feel are necessary, it's always your choice. Our maintenance service will consist of everything your pool needs to consistently remain the beautiful oasis that you have always imagined and desire.
Pool maintains service provides four (4) visits per month. Although there are some months you will still be receiving five(5) visits while only paying for four (4).
Chandler Resources
Queen Creek Pool Repairs
Whether you are in need repair, new installation or just looking for an energy efficient equipment upgrade, will work with you to provide a solution to fit your budget.
We can repair just about anything that goes wrong with your pool and its equipment. Call us and let us know what your problem is, whether it is your:
Pump
Heater
Filter
Cleaner
Plumbing leaks
Valve leaks
Automation/controls and timers
Lighting
Salt system and other sanitation alternatives
Deck crack and joint seal
And much more…
We will repair or replace and/or upgrade it!
Call for pricing.
Since its incorporation on Sept. 5, 1989, the Town of Queen Creek has fulfilled residents' dreams for the community. The Town has adopted several award-winning plans designed to guide future growth, planning and land use as well as provide amenities. The Town has grown from rich rural roots to what is one of the most innovatively planned family friendly home towns in Arizona.