Our mission is to provide the most reliable and quality pool service in the Valley. At Arizona Pool Service we do everything possible to treat your swimming pool and your backyard like it was our own. We promise to be dependable, reliable, and offer quality solutions to your swimming pool cleaning and repair needs. Thank you in advance for the opportunity to serve you for your Mesa Pool Cleaning and Pool Repair needs. Please call us for a free quote!
In order to keep your pool clean and beautiful, there are many reasons to hire a pool service. Relaxing by the pool on a sultry summer day is one of the most relaxing ways to pass the time. Or if you're more athletic, swimming is an excellent form of exercise, and your own pool is the most convenient means to take a dip. However, a pool requires maintenance. A good pool service is well worth the expense, and the time you save can be spent actually enjoying your pool.
Arizona Pool Service performs regular maintenance, such as skimming debris from the surface of the water or maintaining the proper chemical balance in your pool. Most services will send out crews on a weekly basis, although more frequent service might be necessary. We will also scrub your pool walls and steps, clean the filter, empty the skimmer baskets and ensure that all your equipment is working properly.
Maintaining a pool's chemical balance also helps families enjoy clean and safe swimming. When families do not know how to check their pool's chemical balances, they can call us to provide this service. A proper balance of chemicals in the water prevents bacteria from growing, algae from accumulating, and other unsafe organisms from making their homes in a family's pool water. We can ensure that the levels of chemicals are safe and balanced. Families can enjoy knowing they can swim safely.
Mesa Pool Company
Full Service Weekly Pool Cleaning
Pool Filter Cleaning
Total Dissolved Solids Testing and Cleaning
Swimming Pool Draining Services
Green Pool Cleaning Service
Calcium Removal
Repairing Pools In Mesa
Arizona Pool Service can handle all of your pool repair problems and also routine pool maintenance items. We can help you with these types of pool repairs and more:
Pool Pumps and Motors, Timers, and Valves
We repair/replace gaskets, seals, impellers, and electrical
Chandler Resources
Leaks Around Your Equipment
Any leaks around the pool's equipment should be fixed.  Water around the equipment is never a good sign and should be properly repaired.  A leak allows air into the system, reducing performance and wearing the pool equipment out sooner.
Pool Light Repair and Replacement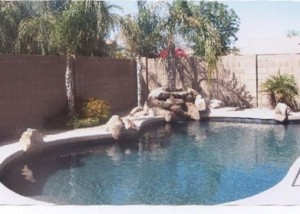 We can replace burnt out pool light bulbs and replace bad gaskets. Do you have water in your pool light? We can determine and fix the cause of water in your pool light.  Many times the bulb has gone bad because the GFI has gone bad.  We will inspect, fix, and replace the GFI associated with the light and make sure all breakers are operating correctly.
Pool Filter Repair and Replacement
We inspect, repair, and replace all DE, Cartridge, and Sand Filters. If you are in need of a pool filter, please call us for a price quote.
We Service:
All Residential Swimming Pools
Olympic Sized Swimming Pools
Lap Pools
Swim Facilities Maintenance
Spas
Shallow Pools Or Kiddie Pools