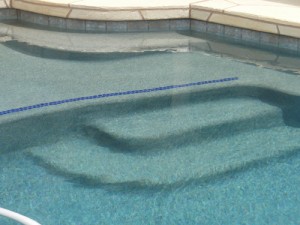 Arizona Pool Service is a family owned business built from the ground up, our goal is to be the best swimming pool service company in the Valley, servicing our clients needs in all phases of swimming pool cleaning, repair and maintenance, all at a cost effective price
Our cleaning services will keep your pool water clean and properly chemically balanced. We will check your pool's equipment and ensure everything is functioning properly. Should any equipment repairs be necessary to maintain function, with your permission, we will perform repairs or replace defective components or make recommendations. We also offer other services besides cleaning and repairs, such as acid washes of interior surfaces, decking resurfacing and re-plastering.<
Service will be performed once a week and will include the following:
Skim Surface of pool
Vacuum bottom of pool as necessary
Brush pool walls
Backwash Sand Filters
Backwash and recharge DE Filter
Test water chemistry and add chemicals as needed
Empty Pump Baskets(s), Skimmer Basket(s), and Leaf Canister
Inspect Pool for needed repairs
Cartridge Filter Cleaning – Cleaning ever 6-12 months is recommended for cartridges 300 Sq. Ft. and up.
Salt Cell Cleaning
Swimming Pool Acid Wash
Swimming Pool Chlorine Wash
Tile Cleans ( Glass Bead)
Pump Installation
Green-to-Clean
One time Clean-ups
Pump Repair
Motor Replacement
Sand Changes – We recommend replacing the sand every 3-5 years
D.E. Filter Tear downs/Cleaning – Manufacturers recommend cleaning the grids in your D.E. filter a minimum of once per year.
Quick, 1-3 business day turnaround on all major repairs.
Ahwatukee Fun Facts
Interesting and fun facts about Ahwatukee include:
Ahwatukee has been recognized by Money Magazine as one of its "Best Places to Live in America".
Ahwatukee is home to many Arizona Cardinals players and coaches due to its proximity to the team's Tempe training facility.
Ahwatukee has 3 zip codes — 85044 (population @ 40,000 and covers the east – closest to the I-10 freeway), 85048 (population @ 35,000 and covers the center of the area), and 85045 (population @ 5,000 and covers the far western edge).
The zip code with the highest median income in Ahwatukee is 85045.
Some parcels of land in Ahwatukee were once owned by International Harvester, who owned and operated an equipment testing facility there from 1947 to 1983.
The most active area for shopping and nightlife area near the "village core" at 48th Street and Ray Road.
Although annexed by the City of Phoenix from 1978 to 1987, before substantial residential growth, many of its residents still think of it as a separate city.
Ahwatukee hosts the Festival of Lights during late November thru early January — among other activities, The beautiful Ahwatukee lights can be seen on Chandler Boulevard from 24th Street to Desert Foothills Parkway.